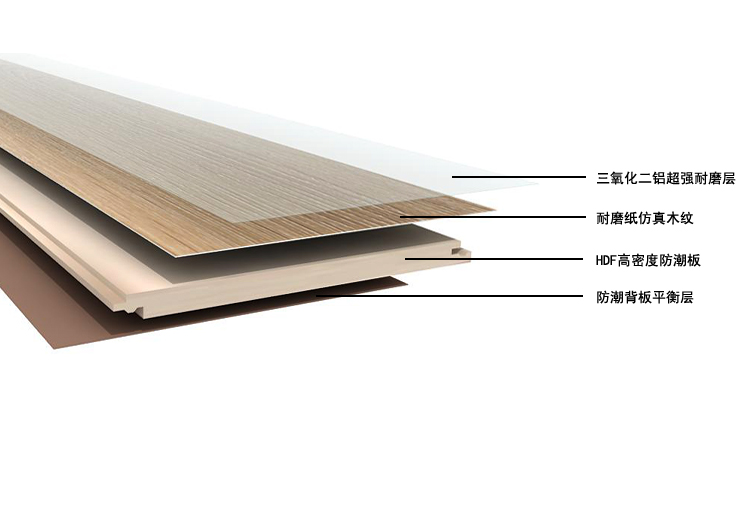 There is a trend that laminate wood flooring will fall out of the market? Is it true?Let's see the following three big reasons from some expert:
I. 90% houses after interior decoration,the air quality are below national standard.
Many clients tend to choose well brand names of wood flooring,cabinets,plywood ,coating or ceramic tiles as they belive these big brandnames are more reliable,whose quality can reach national standards.But why the test report still shows after home decoration the air pollution is far more severe than the national standard? The reality is national standard do not promise the products can make air quality reach national standard,they garantee only finished products(before cutting) will not release excessive harmful substances.Just like good brandname cigarette,nobody dare to say good quality cigarette is good to people's health.So when we look at laminate flooring,we know good quality laminate flooring with lower formaldehyde emission amount,but even very little this substances will be no good to people's health.
II. Some countries begin to ban the sale of laminate flooring
From the year of 2005,higher wood flooring regulation has been enforced that hdf lamnate flooring is prohibited to using on home decoration as such High density fiber board core is the main material releasing FD.While in China,laminate wood flooring is the biggest wood flooring type on sale and installed for homes.Until now no goverment regulations come out to contorl the production capacity of laminate wood flooring,so nobody stand out to block the timber laminate flooring sales in the market of China.Therefore consumers are the weakest groups to protect their health.
III. 90% Children with Leukemia illness used to live in houses of new decoration
Frequent Reports from mainstream newspapers in China shows the harmful substances spread in the air reached 25 varieties. Plywood,laminate flooring,plywood furnitures & coating are the four biggest killers of our health.The home decoration air pollution is so severe that 90% are not qualified,30% in severe bad pollution.Considering our next generations' healthy,laminate wood flooring should be kicked out of flooring market as soon as possible!