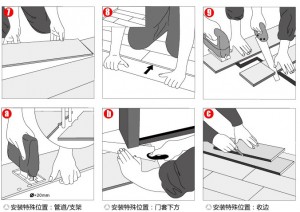 Tasks to Wood Flooring Base Level
1.The proper distance between two wood joist should be≤ 350mm
2. Wood joist should be installed flatly and firmly.
3. Wood joist should be corrosion resistance(width >35mm ). Coniferous timber or multiply wood flooring would be more suitable than others.
4. Insect-resisting agents and desiccants should be spilled at the contact area of ground – wood joist and corners.
5. The underlayer foam and wood based panels(cut in not larger than size 600×600mm) should be put firstly onto subflooring (concert).Every wood based panel should be separated >5mm.
6. Moisture-proof film should be put onto the based panel, and its thickness is more than 5mm, adhered firmly. All process should be conducted at skirting board area. Moisture-proof film should be fold to the wall about 10mm to make sure the whole Moisture-proofing effect.
7. Keep the gap left from wood board to the foot of wall to 8-10mm measured by wood skirting board. The timber should be lined up according to expansibility of different wood flooring. Make room for expansion because of varied moisture content of wood flooring and moisture content of surroundings. Contact area with furniture, washroom, balcony, door, kitchen and cabinet should be sealed by plastic strip.
8. Length of installing area is longer than 8m, separation should be made by Bridge connection processing.