Reveal the secret of "ghost" solid wood flooring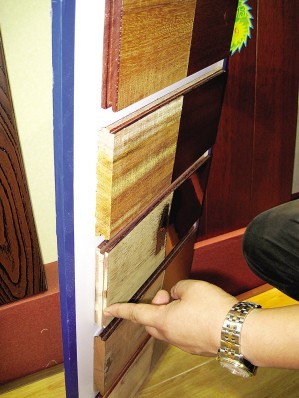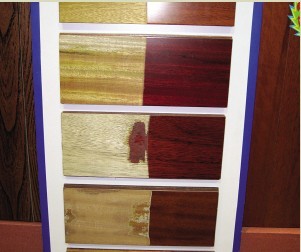 Chinese wood flooring market grows rapidly along with brand building, production craft, and technology innovation. Especially under the strengthened force of leading company which strictly focus on quality and good faith, Chinese local wood market has came over an commendable development.
However, with the economy changing, price of raw material and cost of production rising, Chinese wood flooring industry is facing an unprecedented challenge. Some factories sell seconds at best quality prices, liked bicolor wood flooring, Mixed attached wood flooring, attaching veneer wood flooring, transfer-painted wood flooring and short lifetime wood flooring.
"Five ghosts" means 5 kinds of fake wood flooring of bad quality which is liked real hardwood flooring from appearance. We can easily distinguish the quality after revealing the secret of fake solid wood flooring.
How can we as customers to figure out the "Five ghosts"?
1. Bicolor wood flooring
The raw material is pick from wood which is between sapwood and heart wood. After installation, the surface is treated by color concentrate in order to remove the color difference of sapwood flooring and heart wood, then they will be sold at best quality prices.
Determination Methods: sand the surface or saw off the board to check the aberration
2. Mixed attached board
It is made by after-product materials and failed PBA (Printed Board Assembly) to be sold as wood flooring of best quality. This kind of wood flooring is largely made by B grade wood bases with instability structure which is some kind liked laminate flooring. At the same, because of lacking of painting process, it is easy to peel off and crack.
Determination Methods: make a distinguish of the wood grain. The real wood surface is natural with little aberration, and the back and surface of fake wood flooring has the same wood grain with no aberration.
3. Attaching veneer wood flooring
Attach 0.05-2mm hardwood top veneer on the hardwood base of bad quality to adulterate the quality.
Determination Methods: Check the wood grain of bottom layer and surface, to figure out weather if it is same. If not, that means it is the "ghost" wood flooring.
4. Transfer-painted wood flooring
Wood flooring with wormholes, scratches and crack is re-painted to sell as good-quality hardwood flooring.
5. Short lifetime wood flooring
Wood flooring is kind of products with strict production craft. Some factories with limited technology can not produce hardwood flooring of high quality. The adhesion and hardness of coating can not reach national standard. Especially control process of moisture content is a key measurement for real wood flooring.If fail to put on a strict process on regulating, it is easy to find the situation of coating peeling off, starch, out of shape.
Determination Methods: sand or saw of the board along length direction to find trace of finger joint.