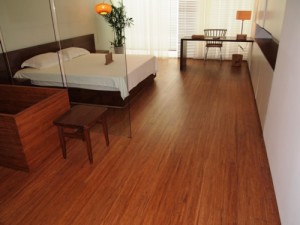 Timber flooring is of few types and many of them are most common. Floating floors are popular among the house owners and they are simply laid over the existing flooring. This type of flooring is made either of soft or hardwood glued to fibre board. Also, they might be either pre-coated or can be coated during the installation process. One of these types is called laminate flooring, which is very popular among many people. However, one problem with this floor type is that it can't be installed in areas like bathroom or verandas as they may wear out when used in wet area.
Another option is called structural timber flooring which is equally common. This kind of installation is difficult and should only be entrusted to professionals as they have the knowledge and experience of installing such flooring. In this case the timber is oak this needs to be seasoned before being installed.
Timber flooring comes in different styles, offering easy installations to enhance your home decor. You can find the options of parquetry, tongue and groove flooring, and get your own choice. The main advantage with this style of flooring is that you can install flooring with the pattern which suits your style and preferences and also best matches your particular requirements. It is seen that many homeowners prefer tongue and groove arrangement, as these are good to keep the flooring together, though it requires to be nailed down ultimately. While others may prefer direct sticking floors, which will simply require installing of the flooring right on the concrete floors.