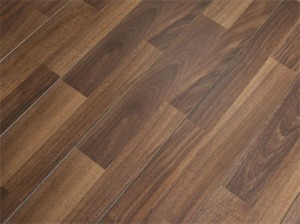 Timber laminate flooring or HDF laminate wood flooring availlable in the market today has more thickness standard to choose for our clients.You could easily find 7mm,8mm,10mm or 12mm all for laminate flooring.Which type is the most suitable for your home decoration?Let's take out more details from here.
From the first impression if you take some samples of different timber laminate flooring in thickness,maybe you would say 12mm is the best quality one.
Actually not almost, less in thickness for laminate flooring means higher core strength required,the core of 8mm laminate flooring must be high density fiberboard, or the floor baord will be very easily to crack.Think about the width of 8mm laminate ,all come in around 200mm width nowdays, 12mm laminate with more in 130mm,165mm,198mm width.12mm laminate with lower core strength(both HDF & MDF ) could be used to produce 12mm laminate flooring while MDF for 8mm timber laminate flooring ,the quality is very difficult to be accepted by clients.
Timber laminate flooring 8mm back layer as we called balance layer comes with even higher density than core(0.85g/cm3),while the toplayer may reach 1100g/cm3,therefore 8mm laminate flooring is bigger in density comparing with 12mm. The advantage of 12mm laminate flooring lies in better softness when people step on it,also the sound insulation poperties better than 8mm laminate flooring.
Another point for laminate flooring might be the most important issue – Formaldehyde Emission standard.
12mm laminate timber flooring get involved in more chemical during the laminate process,so generally 12mm laminate formaldehyde emission quantity is higher than 8mm for same M2 installation.
Some suppliers offer the price for 8mm & 12mm laminate flooring in not a big difference,then you should take care of the quality of 12mm timber laminate flooring .In this case I am afarid either core density strength or FD emission standard is not qualified.
In short, if your budget is limited on flooring decoration,we suggest you take high quality 8mm laminate rather than low quality 12mm timber laminate flooring!