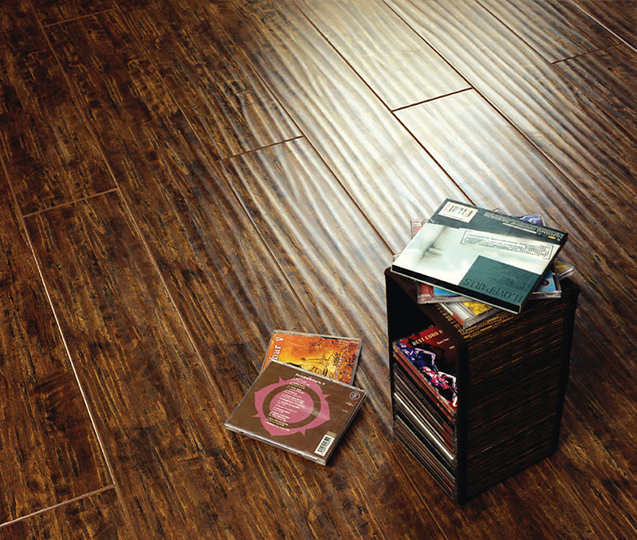 When the concept handscraped hardwood flooring was firstly brought into the market of china,it is crowned as the descriptive names such as "pure hand-made","originally imported" etc.Therefore the handscraped flooring styles are considered as high end profucts.With more manufactuers catch up with the techniques of handscraped hardwood flooring.This type timber flooring goes to mass production and the high end glory of handscraped wood flooring dying off.
With the quick development of laminate flooring & engineered hardwood flooring,a type of most fashional antique wood flooring approached the life of clients.The most prominent advantages of antique handscraped hardwood flooring is that the distressed handscraped style delivered a special emotion to the spaces of houses.
People who are in pursuite of history & freedom emotion appreciated the flooring so much that it motivated the development and production of such style timber floor.Durability & cultural connotation makes the handscraped wood flooring leading the market for a few years in the market of China.
At the initial marketing stage of handscraped timber flooring, the unique style of gloss & grain become the most unbeatable selling point and the price goes up to 200USD/m2 in some renowned brandname company showrrom.These so called "pure hand-made","original imported" are prefered by some luxury villa builders & owners.Most of consumers still can not accept the high cost.
Actually wood flooring surface treatment is indeed a important factor for manufacuring,but it is only one procedure among the whole production process.With the mass production & modern timber flooring production facility evolving,handscraped wood flooring raw material selection becomes more broad,therefore the top layer processing cost dropped very quickly,it take only 3%-5% in total manufactuering cost.The luxury products a few years ago now become more acceptable to middle class consumers.That 's why we say Handscraped hardwood flooring glory is dying off.