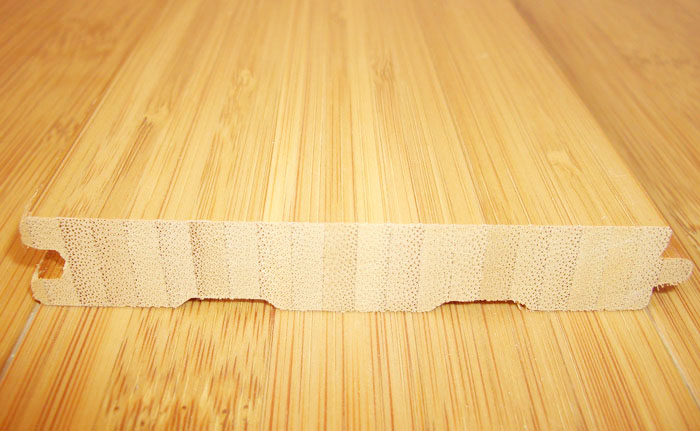 In Recent years, bamboo flooring with its critical feature-environment-friendly brings up in our daily life and set its status firmly in the market. Together with the rising concept of health household, consumers would like to pay more attention to building materials which is energetic conservation and environmental protection.
 
It's not long before the bamboo flooring comes into the market entirely. Bamboo, as a building materials, is relatively clean and environmental-friendly. And bamboo with more than 5 million acreage in China is also an rich source compared to other building materials. The coverage and volume of production count most in the world. Nearly 90% moso bamboo having the best performance and most valuable utility is located in provinces of South China. However there is always a comflict in the wood market that demand exceeds supply, which leads to a transformation and brings a favorable development in the market.
 
Recently, there are hundreds of large-scaled producers of bamboo in our countries, mainly in Zhijiang, Hunan,Fujian,Jiangsu,Jiangxi, Anhui and these provinces are also major in producing bamboo materials. Large enterprises equipped with tenoner, paint line, painting and tackifier, which is imported from German, Italy&Taiwan, Europe respectively, have the ability to produce bamboo timber of high-precision and stable-quality.  In the past few years, bamboo timber flooring export business counts most in many large producers, and the export volume has been on regularly raise. Europea, America, Canada, and countries in Southeast Asia are main importers, while the hottest selling area is Northeast inland with the sales volume being in a sharp rise. So do in Beijing and other areas. We can see a bright sight in bamboo flooring.
  
Passing the growing and stable period of bamboo, the material quality will descend and getting crisp, in order to keep the most favorable performance, it should be cut yearly. The best selective bamboo is 5-6 years with not much harm to environment to cut. That is to say, bamboo timber floors is an environmental-friendly product.
  
Bamboo is different HDF wood floors with its little aberration, relative short planting period, and stable even exposed in the sunlight, no obvious distinct between the surface and the back, beautiful bamboo prints, well-distributed color and high hardness of surface. Bamboo is twice as tall as wood and durable contributing to its botanical structure of torobust fibre. It can be used for 20 years in theory. From the prospect of stability, the performance of shrinkage and expansion is less than hardwood floor.
  
Solid wood sold in market costs between 200 and 300 at a low price or 400-500 at a high price which is far expensive than bamboo. Bamboo, with elegance and economic price, meet the need of consumers perfectly.