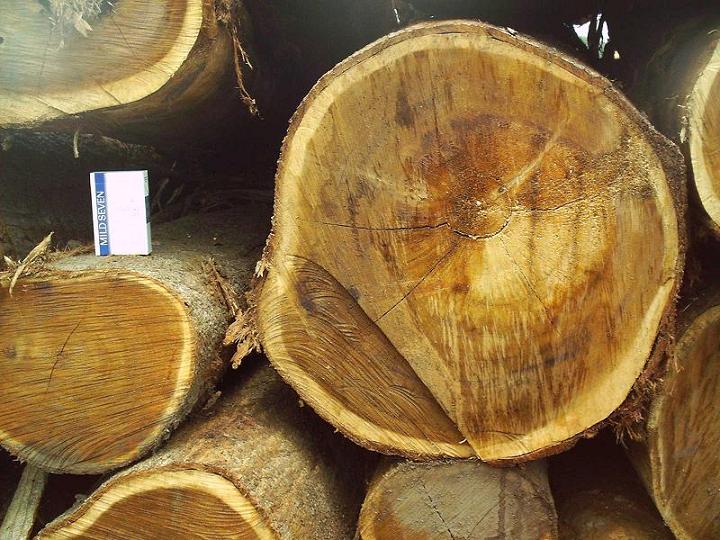 Geographical Origin: Australia and Oceania, including Papua New Guinea.
Humidity Condition for Acacia wood Growth: Forest Rainfall: 1000-4000mm.
Growth Temperature Range: 18-32℃
Acacia Tree Seasonal adaptability: poor drought tolerance.
Soils: pH from 4.5-8.0, grows well on red-yellow podsols, even if heavily eroded. Can tolerate some waterlogging.
Sunlight Requirment: strong, as it is a pioneer species.
Other site limitations: performs poorly with less than 1200 mm annual rainfall; does not tolerate strong wind.
Description:
Height at maturity: 25-30m.
Diameter at breast height (1.3m) at maturity: 40-60cm.
Form: good, self pruning, straight bole without knots, especially when grown in plantation.
Coppicing ability: only in young stems, poor in old trees.
Growth: in a 13-year old plantation, can reach 23-25m height, 27-30cm diameter at breast height (1.3m).
Acacia mangium Wood products: timber, pulp, plywood, particle board. Yields range from 14m3/ha/yr at 4 years to 44m3/ha/yr at 10 years. Its timber has nice close grain.
Other: Nitrogen Fixture
Acacia mangiun Advantages:
Provides timber and other wood products; can quickly suppress imperata grass (Imperata cylindrica) on degraded acid soils.
Acacia mangium Disadvantages:
Some damage has been reported in young stands due to pinhole borers; some damage in nursery due to mildew and molds; wood has a high degree of 'spring' in milling test, a potential defect; heart rot can be a problem in older stands.
Fuelwood: 4800-4900 kcal/kg, produces high quality charcoal.