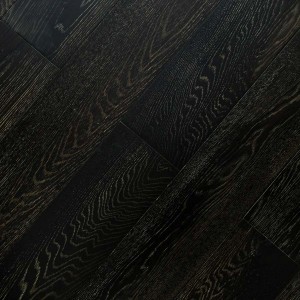 Some experts in China solid wooden floor industry call the technique of solid wood carbonization is a symbol of mature for the whole flooring industry.
Why the experts give such an emphasize on this technique? They think this technique really solved some big problem of common solid wooden floors the days before,common wood floors life cycle has been extended to 20 years.However wood floor carbonization technique for the moment is still in the initial stage ,the whole market is not fully matured yet .
The mainstream in the wood flooring market of China is carbonized hardwood engineered flooring,whose first real wood layer is carbonized,underlay still use common wood.As carbonized wood flooring market is not fully matured yet,we suggest that before purchase,consumers should select well known wood floor brand name in China.
Carbonized bamboo flooring is processed by put the bamboo material in high temperature,high dampness& pressure enclosed special equipment ,the compostion like starch,suger,protein will be degraded ,after bamboo fiber denaturation ,the whole carbonization is finished.
Hardwood engineered wood flooring overlay,such as oak,if carbonized,the oak wood layer will be treated by micro atom drying technique,carbonization with wood fiber shrink inside to enforce the density & hardness of wood materials.