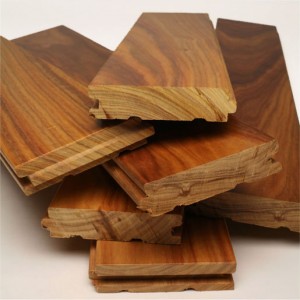 Solid timber floors really brings the best quality feel to anyone who want to choose solid wood flooring for homeuse.Its unique elegance is something other flooring like ceramic tiles,laminate HDF flooring,or engineered wood flooring can not compete with.On the other hand ,hardwood timber material,particularly tropical hardwood from Brazil,Africa or Southeast Asia regions,the value keep on increase with constant diminish of these natural forests.It's really a wise choice to choose hardwood timber material retain the value.
Each diifferent wood species represent unique beauty, from color,grain,kont,to scent,these characters would never go out of fashions.Hardwood durabilty garantee the long time use once the hardwood floor been installed on your rooms,although the first time spending is higher than other type flooring materials.
Surely wood material also has some weakness that every buyer should be clear before purchase. Most of solid timber is not hard enough to resist heavy scratch or dent,even some very hardwood like Ipe,the rsistance is limited after long time use.
Wood actually is sponge material in micro structure,it is very sensitive to surroundings like humidity,dampness,temperature . Normally,expanding, shrinkage,color fading, more or less can not be avoided.Regular maintaince is needed to keep the solid timber flooring in good state.If necessary cushion mat shhould be placed under chairs foot to prevent surface damage.Temperature & humidity should be controlled in the room.
C&L hardwood in China offer a wide range of solid timber floors in various price range,if you want to engjoy the hardwood beauty by flooring in reasonable cost,send us inquiry,we could always present you good solutions!