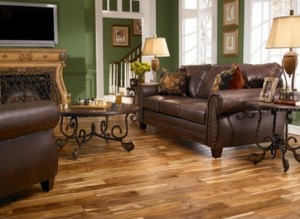 It you are looking for wooden flooring that is much durable and harder in comparison to American hardwood, then use of Acacia also known as Asian walnut flooring is best option. This flooring option has become most demandable due to its uniqueness in colors and properties. Originated from China, thus floor material is one of the best recommended flooring for homes or offices in order to add a natural feel in the appearance. Whether you are experienced or starter to these floors, the Acacia floors help you to add a beautiful yet aesthetic appeal in your home's interior. These floorings are most appreciable for their durability and extreme hardness.
There are different color shades available in Acacia flooring from golden, brown to yellow and red. They remain lasting for a long time with their amazing stability and require less maintenance after installation. Shiny materials and oils are used by the professionals in order to provide the floorings with smooth and fine finishing. Apart from being resistant to termite and other bacterial contamination, the floors are coated with PVC materials due to which they become protective from UV rays as well. Acacia floorings have best endurance and sustenance because of which they look perfect with any interior.
Apart from making floors, Acacia wood is also helpful in making decking, furniture and other wooden materials. There are vivid textures and impeccable patterns are available in Acacia floors so one can choose as per his interior's demand s the home will look beautiful. Constructed in a damage free manner, their smooth finishing allows the user to clean them easily by using a mop. Basically, Acacia hardwood is found in above than 1,300 species of lots of bushes and trees. They have amazing quality characteristics and aesthetic appealing so the floors are ideal to provide a comfortable feeling for both the users and pets.