What?laminate flooring also has authenticity?
Nowaday, a fake laminate flooring on the market that looks like a real laminate flooring. actually the fake laminate flooring is melamine paint impregnated decorative board. It is only suitable for wallboard and furniture materials, it should not be used for flooring. For ordinary consumers without professional knowledge, how do we distinguish between real and fake?
First of all, from the appearance,the surface is embossed for real product,also if the surface is slightly smooth which its fake wood floor ,Normal laminate flooring should be based on high-density fiberboardthe , international standard thickness is 8mm, and the fake is a melamine decorative board without wear layer.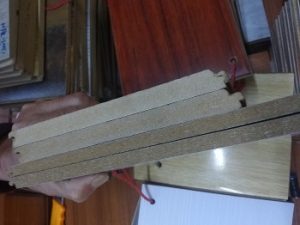 Secondly, from the comparison of the index parameters, the real laminate flooring wear resistance IP is much larger than 4000 rpm, while the fake is only 50 rpm to 500 rpm, and the maximum is 4,000 rpm. But now there are many products on the market with high IP values. Most IP values are greater than or equal to 15,000 rpm, and some are as high as 20,000 rpm. It is impossible to doubt the authenticity of these data. The wear resistance value is different according to the test method, and can be divided into value (IP), final value (FP), average value (AT), etc. FP is often larger than IP by 2000 rpm to 3000 rpm, and AT value is IP value and FP. average of. In addition, artificial hand sanding paper is much more than 50 times true laminate flooring, and less than 50 times is definitely fake. The true floor density HDF is equal to 0.82, and the fake floor density HDF is between 0.6 and 0.8. The water expansion rate is really small, and the installation gap
is small.
In the end, pls pay more attention to the brand awareness , which is usually well known. Whether the manufacturer's normative, trademark, manufacturer, certificate, and quality inspection report of the authoritative department are also important factors for checking the authenticity. No registered trademark, manufacturer, certificate, or fake trademark or fake certificate can never be used and purchased
In the market, most merchants claim that their floor can be used for floor heating systems. But in reality, 55% of these floors cannot be used in heating systems.
"C&L hardwood" is a renowned timber flooring manufacturer in Foshan of China supply a wide range of timber flooring materials with very competitive price based on factory cost.
 And we have been Alibaba's Gold Supplier for 8 consecutive years.