As domestic used decoration materials, wood floorings are very popular among proprietors.
Meanwhile, the price of wood floorings have occupied a large proportion among the house.
Thus, most consumers would be cautious about it. What on earth have determined the
price of wood floorings.
The price of laminate flooring
The price of laminate  floorings is determined by the quality of base material, wear-
resisting layer, patterned paper, skirtings etc. The competition, especially the price is very
severe in the market nowadays.
Consumers regarded laminate flooring as luxury goods when they were first appeared. At
that time, market price of solid wood floorings is 120 to 150yuan/sqm. However, imported
laminate flooring is more than 300yuan/sqm in the domestic market. Besides, demands
exceed supply.
As foreign brands laminate wood floorings
become more and more popular in the
domestic market, Chinese factories have
brought in advanced technologies,
equipment, and production line from foreign countries. In three or four years, domestic
laminate wood floorings have play a dominant role in the market. Due to the increasing
production, prices of laminate wood floorings go down. With the development of technology
and growing use of domestic raw material, the cost of laminate wood floorings decreased.
The prices reduce from several hundred  RMB to several dozens RMB, which makes
laminate wood floorings as affordable products to the civilians.
Nowadays, laminate wood floorings have become economic decoration materials. The price
is low. Home-made laminate wood floorings are 70 to 120RMB/sqm. Laminate wood
floorings are different according to the thickness. Recently, many foreign brands are in
domestic market. Imported laminate flooring are 130 to 300  RMB/sqm.
The price of Hardwood flooring
The price of   hardwood floorings is decided by the materials. Rareness of material is
closely related to the price. When purchasing solid wood floorings, some people chase rare
wood species blindly, and regard expensive wood as high-quality. In fact, the price of solid
wood floorings is determined by the rareness of tree species, but the rareness is not in
proportion to the quality. Hardness and deformation of some rare  wood  species will not
surely higher than ordinary tree species. For example, Merbau. Its raw material is
decreasing, but the price has kept going up. Experts have estimated that the price of
Merbau  wood flooring will continue to increase.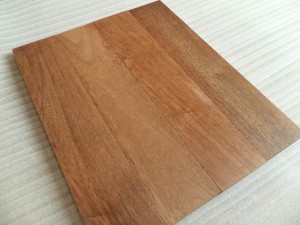 When deciding to buy precious  hardwood 
floorings, we must identify the  wood species
carefully. Solid wood floorings are expensive.
When purchasing hardwood floorings, we
should choose those enterprises with good
quality, service and reputation but to chase those precious one.