In fact, the solid wood flooring is not recommended to be used for the under floor heating
system.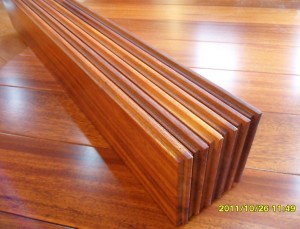 Reason 1: the hardwood flooring is with high moisture content in the wood , even the wood
flooring is already kiln-dried.the high moisture content may bring about  distortion of the
hardwood flooring. Besides, if the solid wood flooring is installed in an incorrect way, the
distortion problem may also occurs.
Reasons 2: it takes you much time and energy to maintain the hardwood flooring for the
under flooring heating. You have to  check the temperature of the solid wood flooring when
you are going to turn on or turn off the under flooring heating. Because the solid wood
flooring could not bear the sudden change of temperature.
Reasons 3:  That is the effect of the heat conduction, which is  in the energy aspect. The
coefficient of heat conductivity  of the floor material is as below :
Natural Stone> Tile> engineered Wood Flooring> Laminate flooring>
hardwood Flooring>Carpet> wool carpet
The lower the coefficient of heat conductivity is, the more engery it takes to achieve the
same heating effect.
As a result, the hardwood flooring is not a good option if your home is with the under floor
heating system.